REFINE ICD - INTRODUCTION TO THE STUDY



The REFINE ICD study is an international, multi-center, randomized, controlled trial designed to enhance the selection of patients for prophylactic (primary prevention) ICD therapy.

Reliable identification of patients at risk of sudden death has remained elusive. The REFINE trial recently demonstrated that the combination of abnormal repolarization alternans (TWA) plus impaired heart rate turbulence (HRT) measured > 8 weeks after a myocardial infarction (MI) using a Holter reliably identifies patients at risk of cardiac death or cardiac arrest (J Am Coll Cardiol 2007;50:2275-84, below).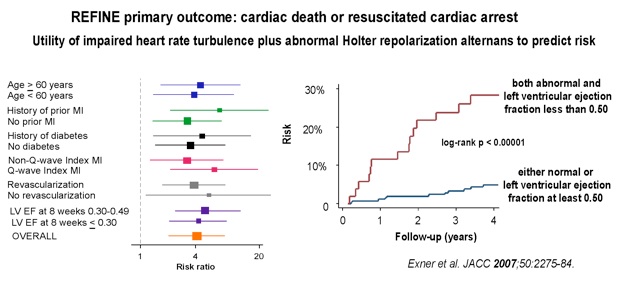 The REFINE ICD trial (N = 700) will test whether an ICD can reduce mortality in patients with a left ventricular ejection fraction (LVEF) 0.36 to 0.50, abnormal TWA plus impaired HRT measured at least 2 months

post-MI.

The primary hypothesis of REFINE ICD is that an ICD compared to usual care will increase the probability of survival in subjects with LVEF values of 0.36 to 0.50, impaired HRT and abnormal TWA measured at least 2 months

after MI. Secondary questions are to compare temporal patterns of health-related quality of life and to assess health care utilization and health economics in subjects randomized to an ICD in addition to usual care versus usual care alone.